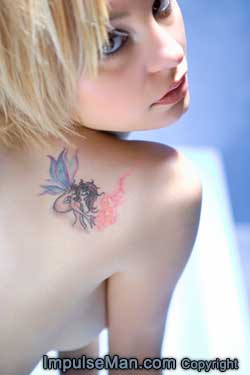 For centuries it has been a tradition among various cultures to decorate the body with permanent pictures of virility, beauty and belief. Instead of perceiving it as an act that scars the body, it was regarded as an honor. In fact, certain tattoos had to be deserved. The only difference modern design has brought to the table is the "sexy" element it was missing all these years.
However, nowhere is "Beauty in the "eye of the beholder" more evident than dealing with tattoos in general and specifically on girls.  The first hurdle is for those who just don't like tattoos or tattoos on girls no matter what, fine.  But we're talking about the girls and guys who think tattoos should be equally appropriate for both sexes.  So with that in mind, let's look at how tattoos can make a girl more attractive.
Tactical Placement 
A tattoo in the right place can do wonders for visual stimulation and attraction. One of the most popular body locales is the lower back commonly known as a "tramp stamp."  It's the tattoo that manages to peek out just above the panty line and drains the blood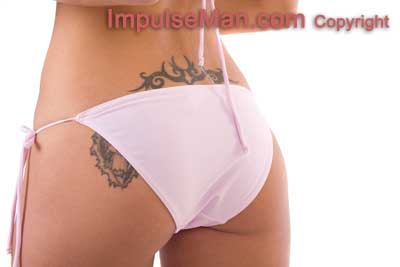 from the brain quicker than Schumacher can reach 100 mph in his Ferrari. Tactically placed, a tattoo can redefine what a girl looks like, not to mention the effects of an upper pelvic tattoo, because then you'll stop reading and start daydreaming.  If she's go it going, chances are you're already checking out her hot spots and a nice tattoo will only keep your eyes focused there a little longer providing the perfect excuse for taking that extra long anotomical look.
 Style and Design  
This will differ from guy to guy, because everyone has their own taste. However, some examples won't hurt. Building on tactical placement, naked pixies and scorpions crawling down her neck, looking to settle just between her breasts is another winning combination. Some guys like gothic depictions of severed heads and sexy demons while others prefer innocent butterflies and fairies. Either way, it's bound to stir a reaction your girlfriend isn't going to appreciate.
It's a Tease 
For some reason or another we always end up thinking how lucky tattoo artists are. If you consider some of the places they have to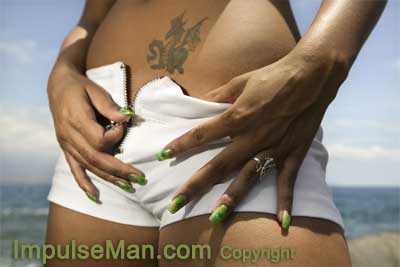 put them, the question of what they were thinking and how they managed to keep calm is intriguing. The girl who got the tattoo probably teased the artist into one of those enraged frenzies mentioned earlier. It's not enough that they can make you cause a major traffic accident by walking in a mini-skirt, but now they have to add a beautiful snake sliding up the side of her thigh, reaching a place you cannot see.
Freedom of Expressions 
No doubt a girl's tattoo reveals something about her personality. Apart from the Chinese text that could mean anything from "skin deep" to "dirt cheap", it could inform guys about how daring she can be. If she has a lot of tattoos then she obviously likes a little pain and she is more focused on making an impression as supposed to just fitting in to society.  For this reason, a girl's tattoo is one of the best openers for getting to know her.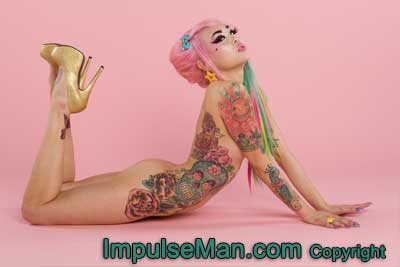 Any guy who doesn't recognize a girl's tattoo and compliment her about it, is missing the boat and should reamin a drift at sea….