Melora Hardin is best known for her roles in The Hot Chick (2002), The Office (2005) and 17 Again (2009).  Oh yeah, throughout her career she has also been known as – smoking hot!  And she's continuing to do so at a very attractive 46 years of age!
Now that Melora Hardin is in the Milf category, she joins the distinguishing celebrity club as one of our featured Milfs, Mary-Louise Parker, who played a very sexy Nancy Botwin on Weeds (Showtime).
Melora Hardin has been acting ever since a young girl. She was born in Houston, Texas on June 29, 1967 to her mother Diane, a retired actress and acting coach, and her father Jerry Hardin, also an actor. Her brother is Shawn Hardin, Co-founder & CEO of Mind Pirate.
Hardin didn't stay in Texas for long, moving to San Francisco, California with her family when she was four years old. A big start in her acting career came at age ten when she starred in the television series Thunder from 1977 to 1978.  Three years later she won a scholarship to study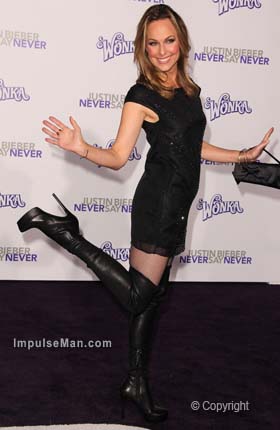 a Summer with the Joffrey Ballet Company in New York.  She continued acting throughout her teens appearing in guest starring roles on Different Strokes, The Love Boat, Little House on the Prairie, Little House: Look Back To Yesterday, Magnum P.I., Quincy, Hotel and the ABC Afterschool Special What Are Friends For.  
As she continued her successful acting career it did not get in the way of Hardin's education graduating from Sarah Lawrence College in 1989.  While attending college, she landed the role of Baby in the television series adaptation of Dirty Dancing in 1988, based on the 1987 film starring Patrick Swayze.
After graduating, Hardin appeared in the television series Quantum Leap in 1992 starring as Abigail in the episodes "Trilogy" parts 2 and 3. Hardin landed another dancing role when she co-starred in the 1990 movie Lambada, a dancing movie where she played the role of Sandy. She also starred as Christy Sullivan in the 1997 movie Absolute Power based on the crime thriller novel by David Baldacci, directed by Clint Eastwood and starring Gene Hackman and Ed Harris.
Melora

Hardin Photo Shoot
Being so hot, Hardin frequently finds herself in love interest roles.  She played a dirty talking hottie of character Ross' in episode 15 of Friends. She even was originally cast for the blockbuster hit Back To The Future as love interest Jennifer Parker, but was recast after Eric Stoltz, the original Marty, was recast because she was too tall to star opposite Michael J. Fox.
Hardin went on to garner more success and wider roles as she starred in the series Cover Me: Based On The True Life Of An FBI Family and landed a big role when in 2004 she was cast as Trudy Monk, a recurring role in which she played Monk's deceased wife on the USA Network series until 2009. Hardin landed a role as Petty Officer Erin Toner in the wildly popular television show NCIS for the episode "The Curse" and played Linda Evans in the 2005 television movie Dynasty: The Making Of A Guilty Pleasure.[amzn_product_inline asin='B004CYF7B2′]
Undoubtedly one of her most notable and most beloved roles was for as the smart, sarcastic and ultimately self-destructive corporate manager of Dunder Mifflin, Jan Levenson in The Office. Hardin brought not only her good looks but a wicked sense of humor and comedic timing to the program as the self-loathing employee who ends up dating Michael Scott, played by Steve Carrell. She starred on the show from 2005 to 2011. She also appeared in the movie Thank You For Smoking and even was in Hannah Montana: The Movie as a love interest for Hannah's father.
Actually, before acting Hardin started singing and writing songs at age two.  Her mother recalls Hardin singing her first song over and over.
Later in her singing career she played the role of Fantine for the Hollywood Bowl production of Les Misérables in 2008, debuted on Broadway as Roxie Hart in Chicago: The Musical the same year, played a nightclub singer in the 1991 movie The Rocketeer, and sang on the television movie Tower of Terror as well as the National Anthem for the season opening games for the Anaheim Ducks and the Phoenix Coyotes in 2010. Hardin sang the Star Spangled Banner for the AAA 400 in 2011 and sang "Tiers Of Joy" for the soundtrack to Leisure Suit Larry: Reloaded. Hardin has recorded three albums (see below).
Melora

Hardin is one hot talented lady and we look forward to seeing much more from this classy beauty!
SEE: Melora Hardin Short Dress and High Heels  and Merlora Hardin Thigh High Stilletto Boots