It can be a difficult endeavor being the Best Man and responsible for the bachelor party.  Much of the pressure stems from the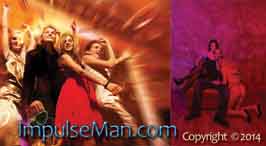 "finality" of it being the groom's last night of being – a so-called "Free Man".  What typically jumps to mind is a strip club, and somewhere fun.  Vegas Baby!  Obviously, not a bad idea not matter how cliché, but let's take all into consideration.
First of all, get out-of-the-way right now, determine just how wild the bachelor party will be.  Back to Vegas, did you see The
Hangover?  That should be warning enough not to have a wild bachelor party to near the wedding day.  And if you have it the night before, you better all just stay home and watch Leave It To Beaver re-runs and drink sodas.  
The closest to the wedding should be no less than three days before the rehearsal.  No use being hung over for the rehearsal, however for all but the groom, a shot or two takes the edge off.  Remember that the bride is soon to be his "wife" and that usually is a whole lot different than his girlfriend, so don't piss her off!  Be a good sport and deliver the groom to her fresh and sober.
Deciding who should be invited usually stands out right away, but if it is more than 20 guys or so, then you might have your hands full.  It always limits the number attending by having the party in another city.  Here we go Vegas again.  It is typical for the all the guys to pay their way and hotels, but somewhat customary for the groom to have a dinner the first night while calm won't be seen again until on the flight home.
Here's the "sticky wicket" as the English say, how much do you tell the bride?  A general rule is give her some idea of what's going on, or she will be very suspicious of silence.  But don't make up a bunch of shit just to let her think nothing is going on either.  You will just need to weigh this one out.  Whatever happens in Vegas, stays in Vegas.  She'll figure it out…[amzn_product_inline asin='B002Q4VBPQ']
Some people suggest getting the bride involved in the party planning.  That sounds nice, but this is the guy's party and the other guys will likely hate it.  Look at this way, do you want to help plan her bachelorette's party?
Also, unless you are really sure you know the groom's tastes and desires, don't try to pull off a surprise bachelor party.  This is his big night and let him have the fun he wants.
If you want to tame down the bachelor party, then there is no problem centering it around golf (Scottsdale, AZ) sport fishing (Cabo San Lucas), and Skiing (Whistler, British Columbia, Canada). 
Plan ahead on making those special "guy time memories".  Where ever you go find the popular destinations.  However, watch how you record those memories because what might be somewhat innocent (or not) should be very scrutinized in pictures and video.  But do take pictures and video, because it be too suspicious not to have any pictures or video.  You may want to use the groom's camera for the "safe" pictures and video, and your camera for the "not so safe" pictures and video.
Now have fun!