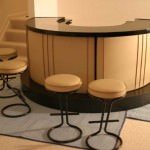 Shopping for a home bar can be a lot of fun. There are thousands of stores selling affordable bars with a unique design. And don't worry — a quality home bar doesn't need to cost an arm and a leg. Think of it as an investment. If you have your own bar, you'll spend more time at home and go out less often. This means that you're going to spend less on drinks, gas, and public transportation. A night out on the town is expensive. Additionally, you can prepare exotic cocktails and fancy drinks at a fraction of the price.
Start your research on the Internet. Look for special deals and promotions. If you find an online store that sells quality home bars, try to get a discount. Consider using coupons. Check the sales section. Some furniture stores offer personalized items. If you want a themed home bar with distinctive accents and unusual shapes, just ask for one. Most manufacturers are willing to build custom furniture. However, it may cost you more.
If you're on a tight budget, you can set up a small home bar without breaking the bank. Many local stores sell quality bars at $200 – $300 depending on your preferences. A basic home bar will naturally cost less than a sophisticated one. Standards bar height is 42 inches. Most types of bar stools are designed for that height. The bar top should be at least 16 inches wide. The foot rail should be about nine inches. Choose a home bar with a lower counter. This allows you to set bottles, slice fruits, or install a sink with ease.
Wooden home bars have a timeless design and can add a touch of style to your living space. However, they are quite difficult to maintain and cost more than other models. Steel bars are durable and maintenance-free, and don't require finishing or painting. Some people have paid less than one dollar per square feet. A steel home bar is convenient and can be easily installed.
Before you go shopping, decide what type of bar suits your needs. Find the perfect location to stash your stuff and then choose a theme for your home bar. Most models feature built-in racks for your bar accessories and stemware, as well as wine racks and handy shelves for bottles. Determine what exactly you want in a home bar and then pick a model that fits your budget.